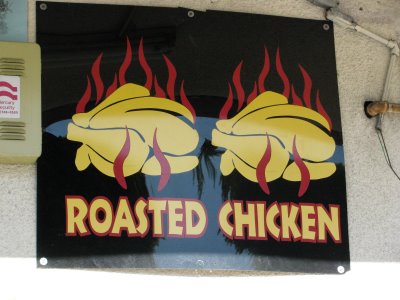 We walked yesterday--and through that, saw the interconnectedness of Downtown. We first walked over to the Bradbury Building with a drop in at Central Market. Central Market is the real deal in the tradition of Reading Terminal Market in Philadelphia or The St. Lawrence Market in Toronto. Tons of stands, tons of stands and restaurants, chili vendors, spice vendors, meat and produce people. Great neon. Again, very clean! with lots of old time lunch counters of everthing imaginable from chinese and thai food to mexican. Some good illustrations of cows etc. that I took pictures of. We passed what became an obsession, the spanish wedding dress stores chock a block with cinderella dresses with embroidery, tuille, amazing bead and feather work. Enough to make K and my head spin. We have great lust for these things as K has a prom looming and this look would be a homerun in her mind. They were spectacular. I think a bit of googling and ebay searching may help this quest.
The Bradbury Building is best known for the interior scenes in the movie Bladerunner (along with other noteable LA buildings such as the Hollyhock House (FLWRight). It was apparently in a state of disrepair during the filming which one would never understand given that spit and polish perfection that awaited us. Clean edges, sharp...tile meeting terracotta meeting wood. Lyrical wrought iron and the wonderful whimsey the Victorians surrounded technology with. It was well worth the trip to see such a spectacular piece of architecture. Then, we headed towards Chinatown, literally skirting the top of Olivera Street (the Mexican District). We made a little shortcut to Olivera street to go to our favorite stand for taquitos (with this avocado inspired green sauce) and revelled in its perfection. Then onward to Chinatown which proved to be a bit lackluster by comparison.
Half the team was flagging, so we decided to tour Union Station and get ourselves back in the neighborhood via the LA subway system which was remarkable. Clean, easy to figure out and cheap. Union Station is remarkable--another amazing landmark...Union Station west coast style with tile, and color, big splashes of shape and pattern on the floors...walls. Rennovated perfectly with people using the spaces again. R and I went to MOCA to see what was doing to discover it was closed (Tuesdays and Wednesdays). However, we went to the LA Library which is a marvel. The Library had two occasions of arson in 1986 and has gone on to grow, expand and become a city jewel. Their collections are worth revisiting (Illustration (they had a Beatrix Potter on display), no end to pulp and movie posters, Japanese prints to name a few). And given the tone and feel of the place, I bet if you called in advance, it would not be a biggie to see the stuff. Tue public spaces are beautiful with plantings and places to sit along with a white tablecloth restaurant spilling into the plaza.
Then, back to the Standard where we lounged poolside (and in the pool to the horror of the Californians), with our littles while their auntie rested. Around five, we walked over to the new LA Live and the Grammy Museum which was remarkable and to my surprise, I actually liked/loved! Some heavy fantasy seventies retro styling happening in the exhibit...complemented by cool technology. There were magical interactives that spoke to the variety of music out there, lots of intriguing films about how a song comes together, the people involved in the making of music, interviews with producers about what they do, how they do it--and very little on the Grammys themselves. There is memorabilia, like sweet letters written by the artists, or the original manuscripts of songs--there are photos, instruments, and graphicss...stuff to feather a story to make it seem more human, humane, and a pursuit. It was cool to see how they spoke to the "art" of music making...and how the real filter, the real hand is the vision of the artist surrounded by all of these others who take it to the final. I particularly liked a film that spoke about session musicians and their ability to come in, look at the music once, sit down and deliver time and time again...without rehearsals etc. The prime group is a collection of musicians called the Wrecking Crew. Such heart, such professionalism, such craft. Amazing. Must see.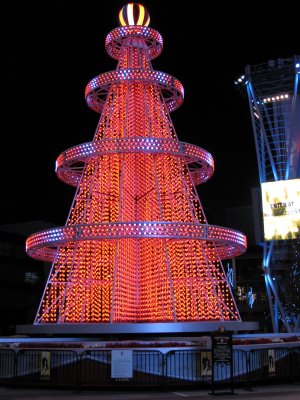 Then onward to discover LA live which will prove to be amazing upon completion. LA Live is a series of musical venues and lounges (Luckystrike is a lounge/bowling alley) that feature live performances --with the Grammy Museum being the driver. All of this is next to the Staples Center--with amazing huge jumbotron signage, lots of kinetic displays and a big splashy plaza with a ESPN zone. Very Universal City, Very downtown Disney but with a real focus on live entertainment. This is brand new, but my bet is within a year, this will be a go to place.
On the way back to the hotel, we visited a wonderful chain, japanese grocery store (with steaming Bao to go) called Famima which we loved down to the Hello Kitty cellphone charms and green tea iced cream, green tea mints, and green tea drinks. Did I say, green tea is big here? I bought some erasers in the shape of sushi and a remarkable pentel correction pen with a fine point as something to try. I got Mandy some funny mints as a "we love you" as she has been watching Shady Grove for this trip for pay...but a little soupcon is nice too.
Today is our last day. Tomorrow home> via Philadelphia which is pretty much all day in transit. We have had a lovely time but I think we will all be ready for our own beds and not living on top of each other as we have. I have throughly enjoyed myself and this neighborhood exploration of LA. It had painted a new picture of the town for me along with not feeling as if we spent the entire time on the highways and biways getting from point a to point b...withouth much time to soak the local culture in. We have usually gone someplace for 2 days with generally 2 days in transit which has not really added up to the time/cash outlay, so this local (even on foot) approach has dimesionalized the life here, the neighborhoods, the cultures, and the culture available. But, back to our frosty plateau to work, school, crusades and illustration.